My homemade, no gum added, vegan, sourdough gluten-free bread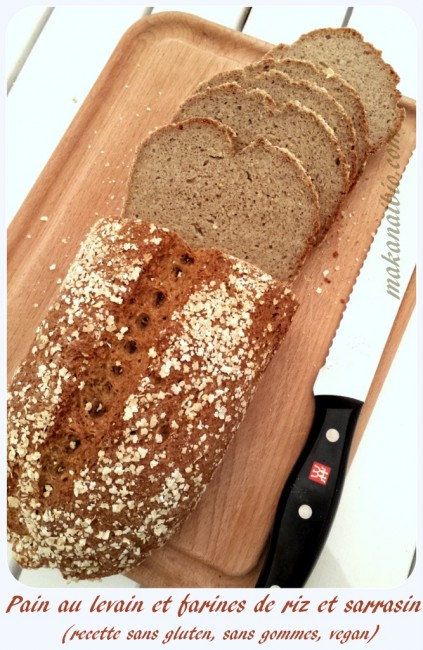 Auteur:
Florence @Makanaibio.com
Type de recette:
Sourdough Bread
Type de cuisine:
Gluten Free
Dry ingredients :
280 g whole rice flour
280 g buckwheat flour
150 g potato starch
150 g corn starch
70 g millet flakes
130 g Pixie-Dust
15 g fleur de sel de Guérande
10 g active dry yeast
Wet/liquid igredients :
845 g water
290 g rice and buckwheat sourdough starter
50 g agave syrup
100 g olive oil
Whisk together the dry ingredients.
Add all the wet/liquid ingredients and whisk/mix thouroughly (I like to use my danish dough whisk for that part), until you feel that the dough is OK.
Shape the dough into a ball, cover (not airtight) the bowl with a clean towel and allow the dough to rest and rise at room temperature until dough doubles in size, approx. 4-6 hours (depending of the strength of the sourdough starter and the temperature of your room).
Prepare 2 bread pans.
Dust the work surface with millet flakes (or any flour or small soft flakes -not rice flakes), pour the dough onto the surface and cut it in two pieces.
Quickly flatten one of the dough pieces with your hands (the dough will not stretch, as there is no gluten), and gently shape it, following your instinct (really ! Just do it !) and/or the form of your bread pans. You might want to wet your hands a little to prevent the dough from sticking and to create a smooth surface, but don't use so much water as to make the dough or the flakes soggy.
Place the loaf in one of your bread pans, and repeat flattening and shaping with the second piece of dough.
Let the loaves rest for 20 to 45 minutes.
minutes prior to baking, preheat oven to 430°F/220°C.
Just before baking, slash your loaves lengthwise with a serrated bread knife.
Slide the pans in the very hot oven and bake for 15 minutes. Without opening the oven door, lower the oven temp to 350°F/180°C and bake 35 more minutes approx. or until the loaves are richly browned and firm.
Remove the pans from the oven, and the loaves from their pans. Put the loaves on a rack and allow to cool completely before slicing and eating.
Recipe by
Makanai
at https://makanaibio.com/2014/11/sourdough-gluten-free-bread.html